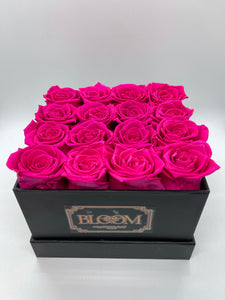 Our 16 vibrant, hot pink roses in a black box. 


Our roses are preserved to last at least one year up to three years with proper care. No sunlight or water needed. Keep in a well ventilated place, free from heat and away from direct sunlight. 


Enjoy these beauties on your vanity, dining room table, bookshelf, coffee table or as a centerpiece on your dresser. The possibilities are endless. 


* There's a protective film over the die cut logo to protect it through shipping. Remove it, starting with the corners first, VERY SLOWLY!! 


Enjoy Your BLOOM!